18 Jun

Deep Dive On Corruption Cases Data In Nigeria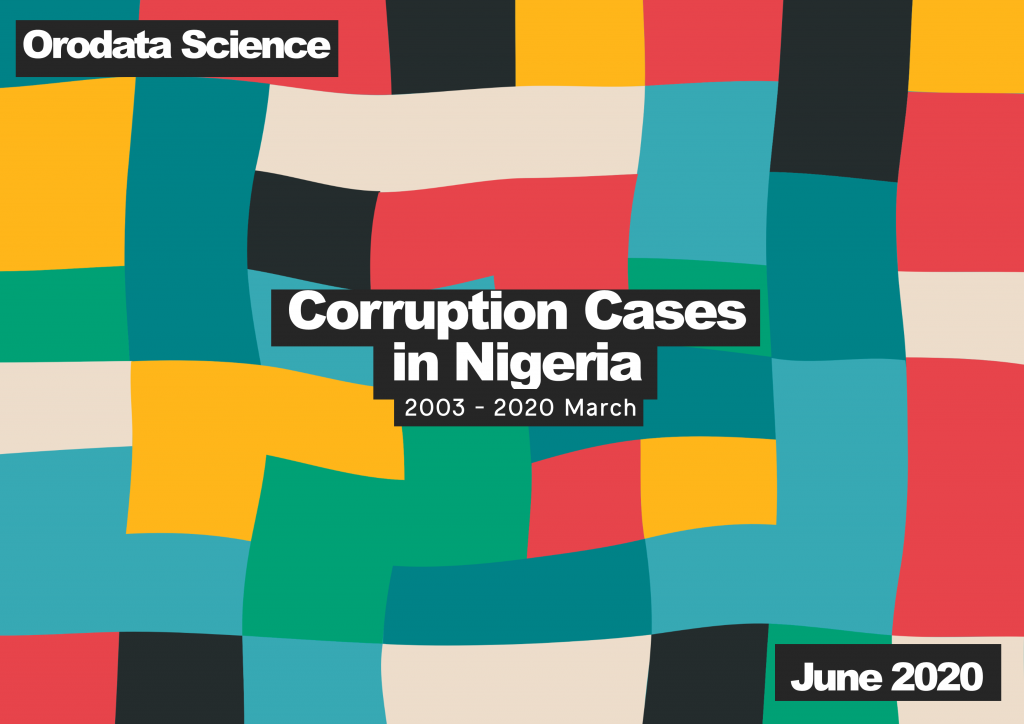 Corruption has been around for thousands of years as evidence provides, however in recent years, it has attracted much attention and deliberation. This recent attention can be attributed to the fact that there has been an increase in awareness as well as an increase in corruption practices. Corruption is a worldwide phenomenon, but prominent in countries of the third world, particularly in Africa. The widespread corruption is a symptom of a poorly functioning state, and a poorly functioning state can undermine economic growth.
It has been acknowledged for long, as a challenge to economic progress and democracy in Nigeria. Corruption is the canonization of fraudulence; the brazen celebration of impunity, which pollutes the ethical hygiene of a society.
Last month, we facilitated a 3-day "Deep Dive" into the http://Corruptioncases.ng database which took place on the 25th – 27th May 2020, the activity brought together Project Partners, Anti-corruption actors, Reformers and Data Experts to identify patterns, challenges, limitations, and gaps in the prosecution efforts of anti-corruption agencies as well as the Judiciary.
The price of corruption is extremely high; economic, political, social, and moral. Every aspect of life is affected by this cancer. Several industries have been eroded and as we learned on the project there is the huge impact of this worm on daily life wherein some forms of corruption like bribery have become a norm in society. Different aspects of the country's social fabric have seen its own type of corruption viz the private sector, civil society, and the public sector (governance).
Corruption in Nigeria is as old as Nigeria. It is embedded in the ethos, practices, conduct, beliefs, sayings, culture, idiosyncrasies, and heritage of Nigeria.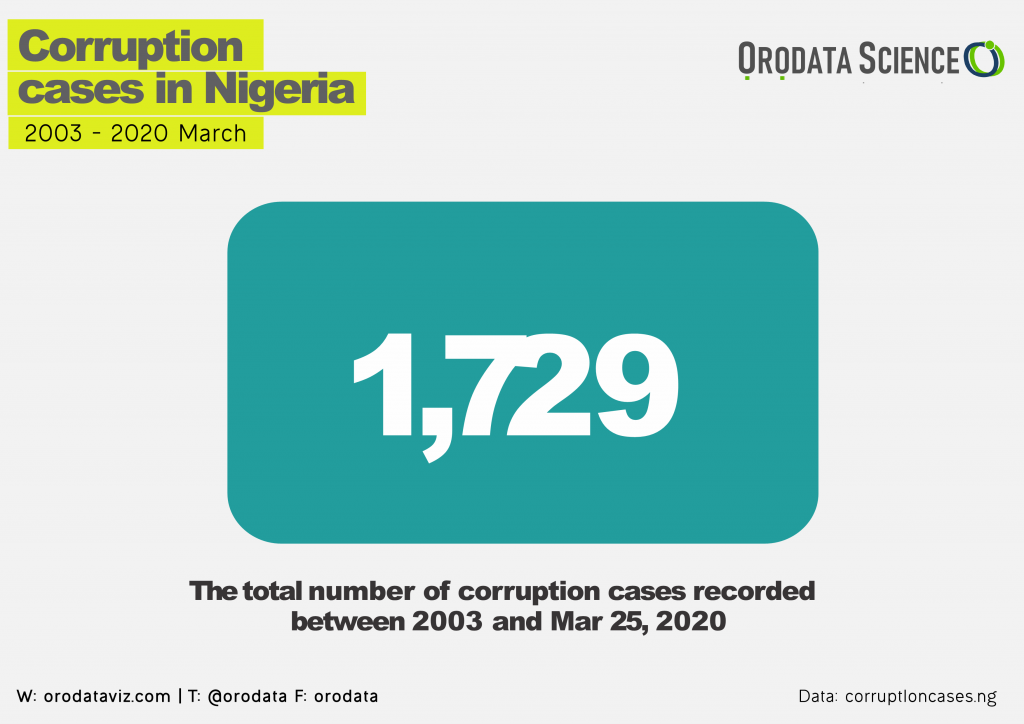 The effect of corruption continues to rise and it kept on manifesting across all sector in the states of the country with collisions across the public sector to the private sectors, civil society, and all government parastatals.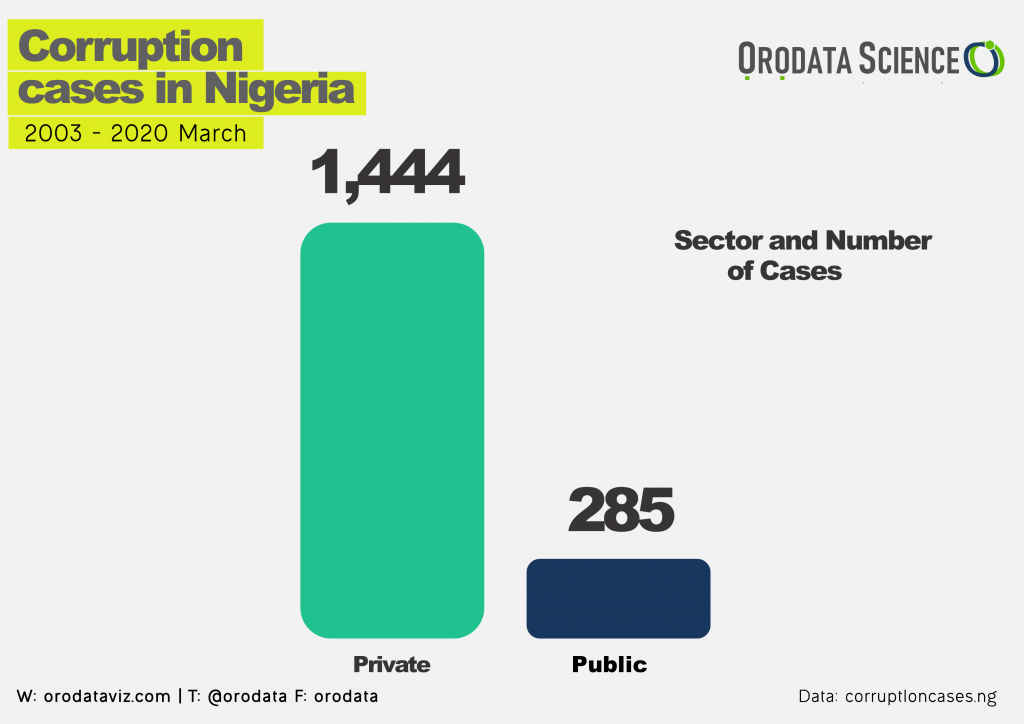 It is empirical to note that corruption among all social vices in Nigeria is a colossal problem. No one can narrow bribery, fraud, and corruption to only high and mighty in Nigeria. It is present at all levels of the society from the security who is supposed to safeguard your life and property that will deny your safety until you to tip him with some amount of money, to a low-level officer of the government who will delay you or possibly deny you a service unless you pay him/her bribe, to nurse in a public hospital who will insist there is no more bed space in the hospital until you tip her with some cash.
However, corruption is not only affected by the public sector, the private school that will admit a child whose parent is ready to pay to gain a chance in the admission list, compared to a student who has earned the mark after a series of studying, to banks who assist internet fraudster in moving money to and from the country.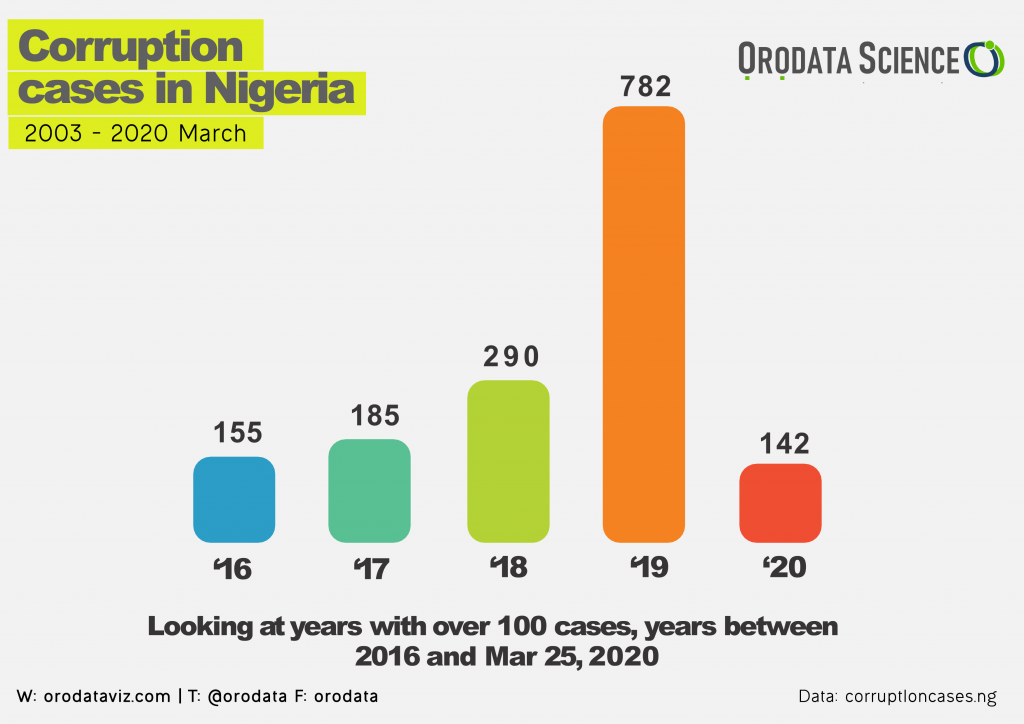 There is hardly any industry in Nigeria not affected by corruption. There is no Nigerian who has not fallen into the temptation of corruption and fraud in one way or the other.
Corruption is widespread and is of every sort; ghost workers, rampant bribery in Universities an polytechnic, persistent oil contract scam, and also an inexhaustible list of informal corruption such as 419, oil theft, bank theft, extortion, internet fraud, bribing INEC or any electoral bodies officials, project fund embezzlement that are untraceable.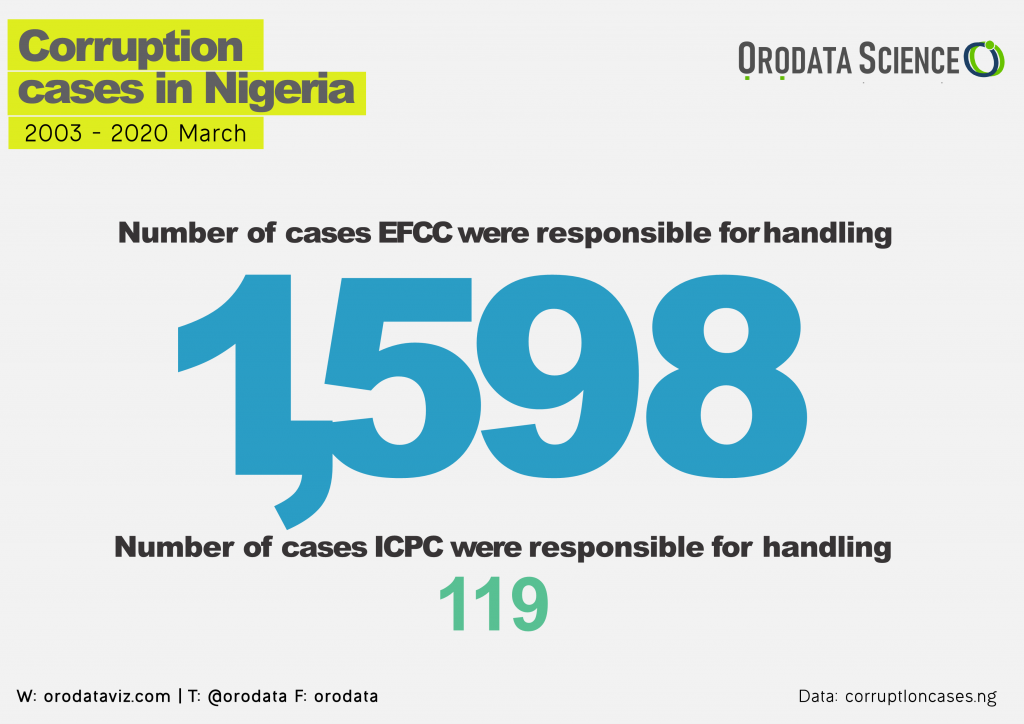 Nigeria recorded ,1729 cases on corruption in the space of 2003 and March 25, 2020, of which 1444 number of cases and 285 number of cases were discovered in the private and public sector respectively. Also, money laundering and fraud have taken the highest number between the public and private sectors accordingly.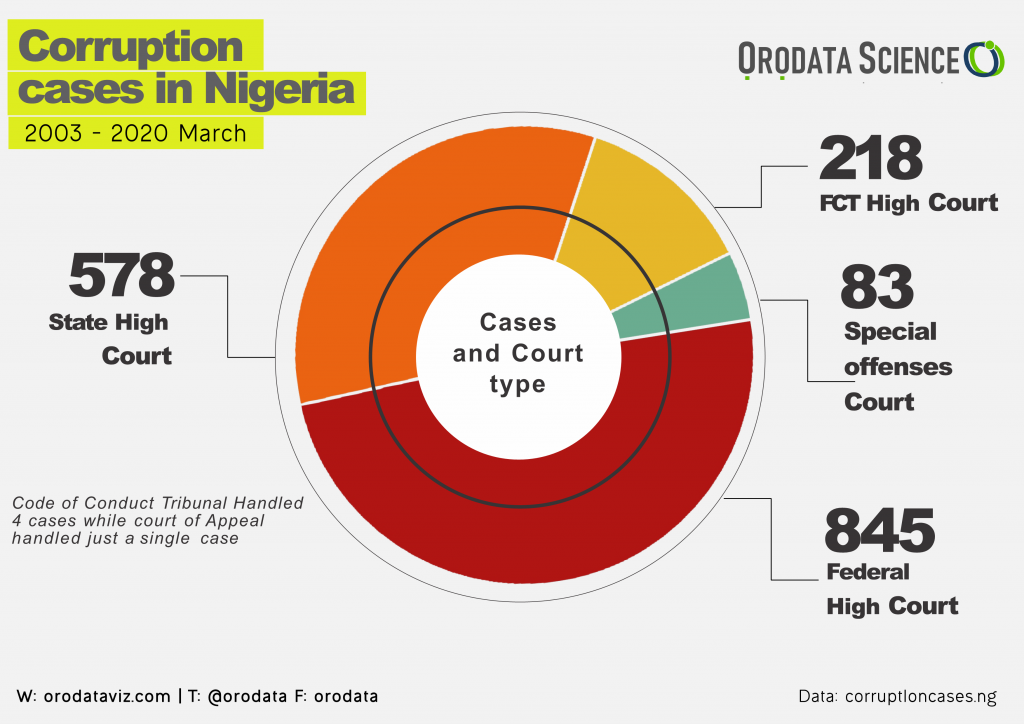 Lagos was reported to be the state with the most cases in the prosecution stage followed by Abuja, Cross river with the most convicted cases, with the most decided cases and with the most cases on trial.
It was reported that the Federal high court has handled the highest number of cases within the 7 years with 845 cases and about 668 defendants who do not have counsel.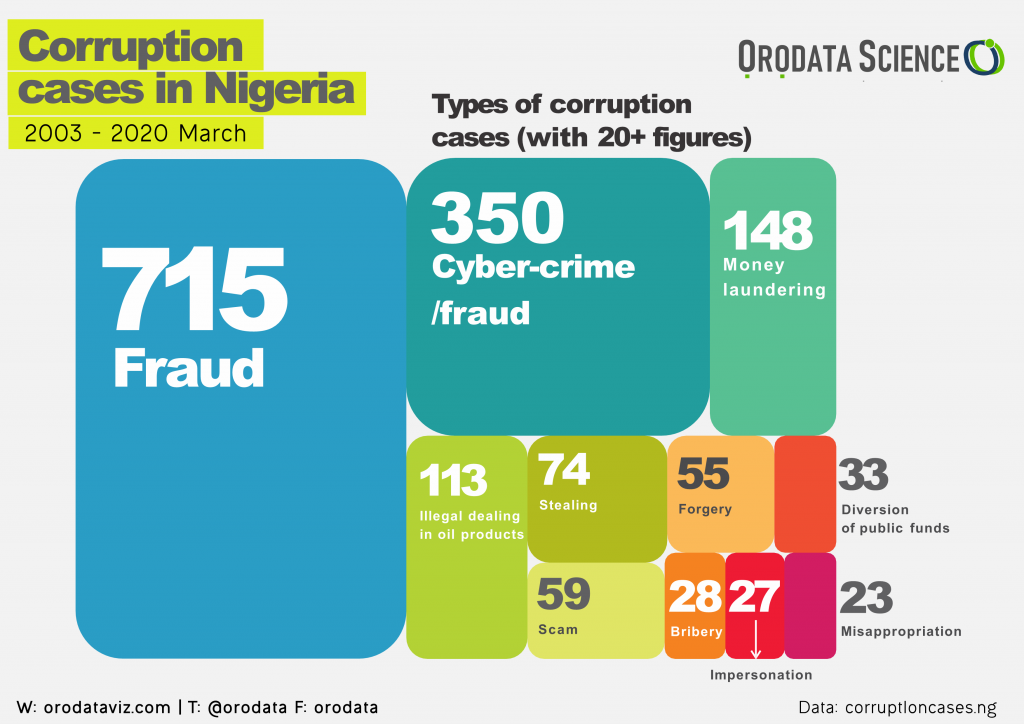 It is obvious that corruption cannot be eradicated completely from the country but can be alleviated to some certain level, there is no country that is totally free from corruption, but there are countries with lesser corruption.
The result from the deep dive was used to craft a report towards extensive notes and manuals for anti-corruption agencies. Anti Corruption Agencies, Civil Societies, Data Experts were in attendance.