28 Oct

Nigeria's Unemployment Rate

Nearly two years after the last Unemployment data was published by the National Bureau of Statistics, the incessant increase in the unemployment rate in Nigeria keeps getting quite alarming.

The number of unemployed people in Nigeria, Africa's largest economy, increased to over 21 million in the second quarter of 2020, the highest the country has reported since the National Bureau of Statistics (NBS) started collating the data in 2014, at a record-high of 27.1 percent in Q2 2020.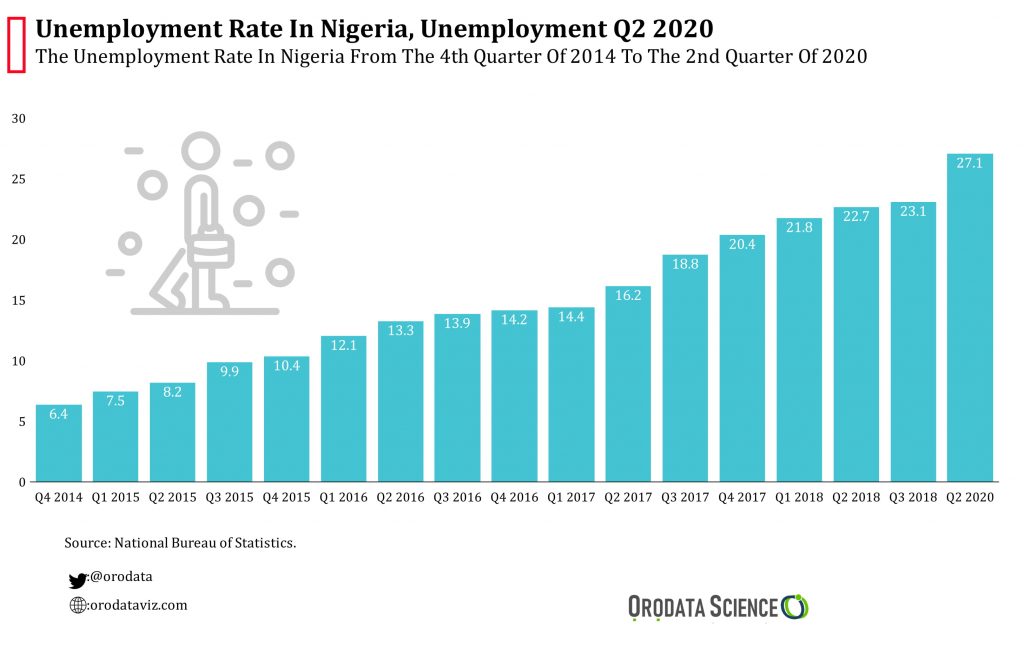 Nigeria's youth remain the hardest hit by unemployment with over 13.9 million people aged between 15 and 34 years unemployed. The number of persons in the economically active or working population (15 – 64 years of age) during the reference period, Q2 2020 was well over 116 million people and this is 1.2% higher than the figure recorded in Q3, 2018, which was over 115 million people.
States with a higher propensity for women to be housewives or stay home husbands have negative attitudes toward work. These states tend to have lower unemployment rates, as they are not considered part of the labour force in the first place.
Graduates and postgraduates combined made up about 2.9 million of the total Nigerians that are unemployed. A person is regarded as employed if he/she is engaged in the production of goods and services, thereby contributing to the Gross Domestic Product (GDP) in a legitimate manner.
A fact that still remains is that the consequences of the high unemployment rate in Nigeria affect each and every one of us as individuals and as members of the Nigerian society. The high prevalence rate of crimes and criminality, including insurgency, militancy, armed robbery, kidnappings, and drug abuse, among others can be linked to the increased unemployment rate in the Country.
.