26 Nov

The ASUU Strike Timeline

The Academic Staff University Staff popularly known as ASUU was established to oversee the academic staff in all Federal and State Universities in the country. It however seems that, since the inception of this Union, the Federal Government has failed countless times to yield to their requests despite various steps and actions taken by the Union.

Going down memory lane, the ASUU has almost never missed a year without going on strike actions, just to drive their demands into the heart of the Government. The government, on the other hand, has ever failed to acknowledge the relevancy of the Union, as the Obasanjo-Atiku regime referred to the ASUU, which of course included university lecturers, as lazy and ungrateful just because they demanded funding of the Nigerian Universities, better working conditions, and reasonable wages, among other demands.

Despite years of truncation in academic activities of Universities in the country and the setback on the path of the students, the Union still fights for the same thing they fought for over 20 years ago. The cumulative period of time the ASUU had gone on strike action since inception has been over three years.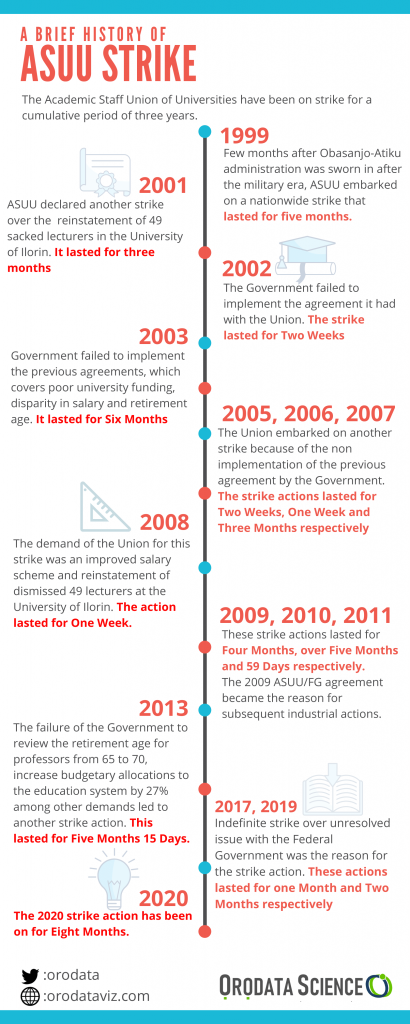 The union embarked on strike action on the 23rd of March 2020 and it went on for over seven months and still counting but after several fights and meetings, which resulted in the non-payment of the salaries of the ASUU members during the COVID lockdown, but with the look of things, the government is yielding to their demands and the strike is said to be off very soon. As of 21st of November, the Government offered the Union N65 Billion, and they were set to resolve over the use of IPPIS, the Integrated Personnel, and Payroll Information System, in the payment of their salaries and remunerations.